This plantation, first known by the Indian name "Yeshoe", was constructed around 1679, making the plantation house the oldest known structure in South Carolina, and was the property of Arthur Middleton.
In 1771, the plantation was sold to Dr. Alexander Garden for whom the gardenia was named.  He was known as the most important scientific figure of Colonial Carolina.  Dr. Garden passed the plantation on to his son Major Alexander Garden, Jr., and his wife changed the name of the plantation to Otranto.  The Otranto name probably comes from Horrance Walpole's novel The Castle of Otranto, published in 1764.  The first documentation of the name occurs on a deed in 1785.
After changing hands several times, the plantation was purchased by Phillip Johnstone Porcher and his wife who used Otranto as a winter home.
In February 1865, after the fall of Charleston, Brigadier General R. B. Potter raided Otranto.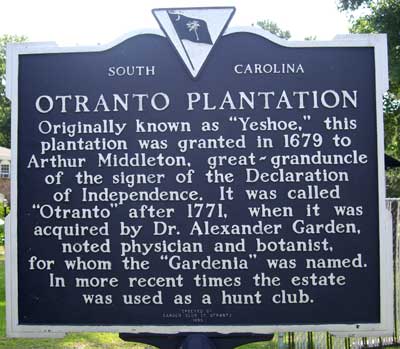 During the dark days of reconstruction, the Porcher family decided to sell Otranto, and in 1872 conveyed it to the Otranto Hunting Club, who almost a century later, sold it to real estate developers.
Otranto was annexed into the City of Hanahan in December 1976 and is one of Charleston area's most desirable communities.